Dear customers, dear visitors,
In compliance with the government directives and for the benefit of all, we regret to inform you that the Bonpas Charterhouse will be closed to the public until further notice. If you have already booked a visit there, please contact us by email: magasinbonpas@bonpas.fr or by phone: +33 (0) 4 90 23 67 98 to postpone or cancel your booking, with no extra fees.
We will keep you informed with regard to the evolution of the situation.
The Bonpas Charterhouse team is looking forward to seeing you again, in good health, as soon as the situation allows it.


Live the Bonpas experience!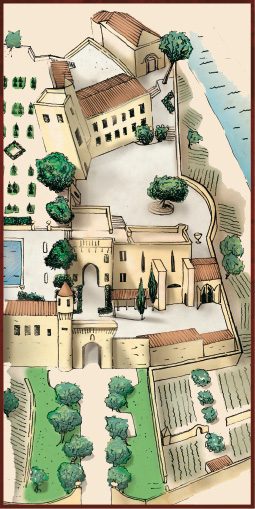 Bonpas, a not-to-be-missed edifice imbued with French history, opens its doors to you for an entertaining, interactive self-guided tour.
Let yourself be transported into the legend of the Bonpas Charterhouse in five spaces - the entrance archway, the chapel, the storeroom, the reading room, and, of course, the wine cellar. Use the interactive terminals to select the language of your choice and launch the various presentations.
From the gardens, enjoy the magnificent view of the Durance River that played such a determining role in the history of Bonpas. The cultural wealth of the Bonpas Charterhouse cannot be summarized; it has to be experienced!
At the end of your visit, our staff will welcome you at the wine shop where they can provide you with information. Take the opportunity to share in a tasting led by a wine professional.
We also welcome corporate and private groups for organized tours!


The Bonpas Charterhouse is open from Monday to Friday
From Monday to Friday 10:00 am to 12:30 pm and from 2:00 pm to 5:00 pm
Friday 10:00 am to 12:30 pm and from 2:00 pm to 4:00 pm